[link to my photobucket gallery]

on the last 13 july 2008, i decided to stop at
ani-com cosplay competition day1

as makeup artist again. XD i managed two pairs of dark blue eyebrows (three in fact, because there was a mistake on the left-right brow coordination for

waninoko

) and got myself into a random crossplay again (the cute kid with short brown/strawberry blonde hair).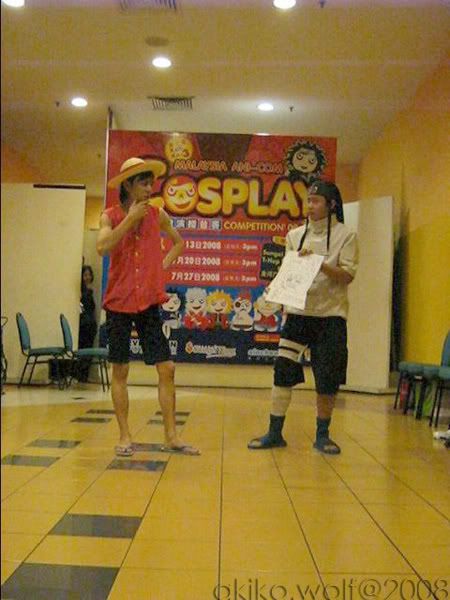 the first contestant was

mskgod

as luffy, who paired with neji (

satan666

) for their sketch. neji stumbles into a loudly snoring stranger to ask if he's seen the person on the wanted poster. unfortunately for him, luffy took neji on a wild goose chase before realising luffy himself was on the poster!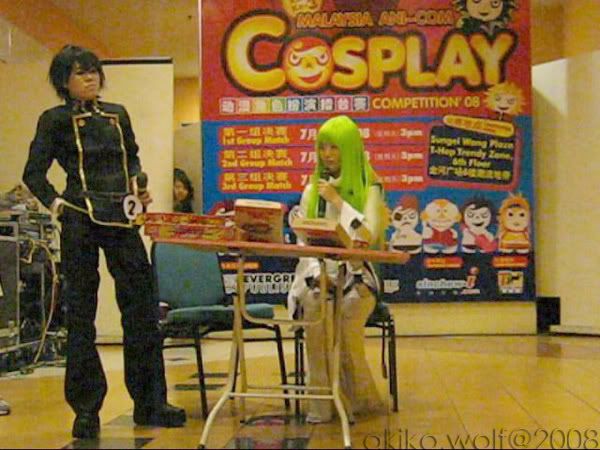 second contestant saw

roxanne

as lelouch being pestered by CC (by

mintos

) for a pizza treat. after a satisfactory pizza meal, lelouch has to come up with an alternate idea to pay off the bill as the geass (temporarily or not, i cannot confirm but) has ceased power!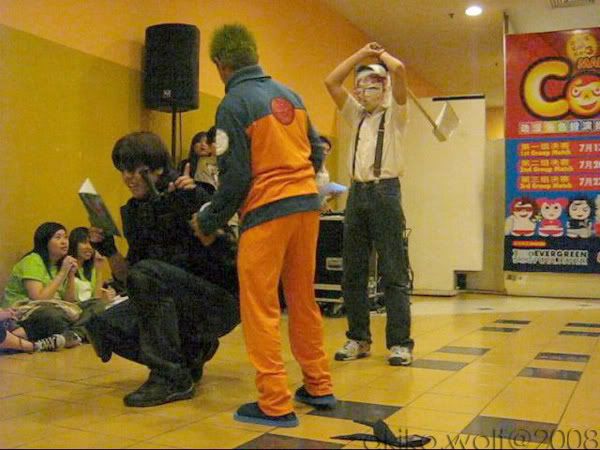 the third contestant has one comment from me: teh cake ish a lie. randomly, leon (RE4) wanted to read the itcha itcha paradise book from naruto, and suddenly confronted by tomodachi (20th century boys) with an axe!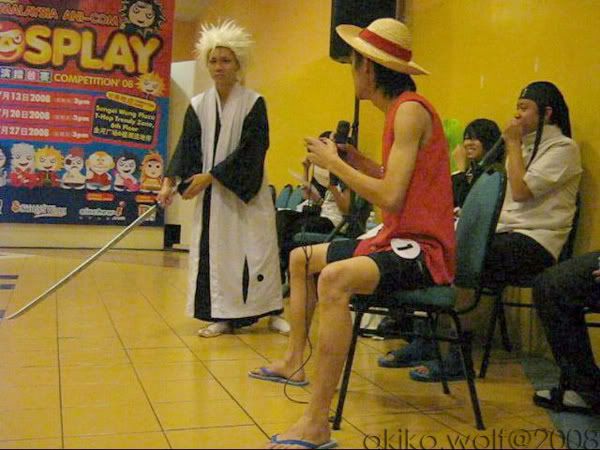 here comes the fourth contestant: captain hitsugaya! luffy was playing the bleach game with hitsugaya as his character of choice, when the screen starts to lag and hitsugaya starts doing weird poses and releasing bankai on and off; and so he complaints to neji for purchasing pirated games.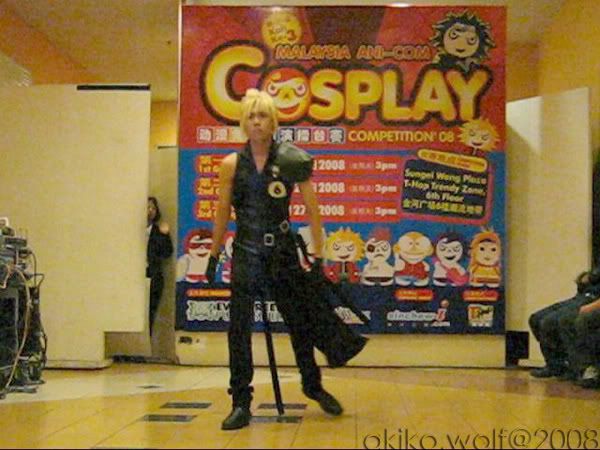 i wish he did not call off his performance midway. fifth contestant plays cloud strife from FF:AC and though he was not equiped with the glorious sword of his, he managed several poses before... all of a sudden, there was a very strongly felt emotional aura when his poses changed from cool to lost. why i liked about him is that i could not tell if he was terribly good at acting as cloud (because he emits an aura!) or he flopped his act.



next,

skypegasus

did a musical rendition as sakura from tsubasa chronicles. just as sakura was about to tell shaoran something personal, there was an ear-splitting sound then boom! they were separated by an invisible wall; sakura fails to recognise shaoran when he wakes her up; and then, sakura wakes up and told shaoran that she had a bad dream. aww~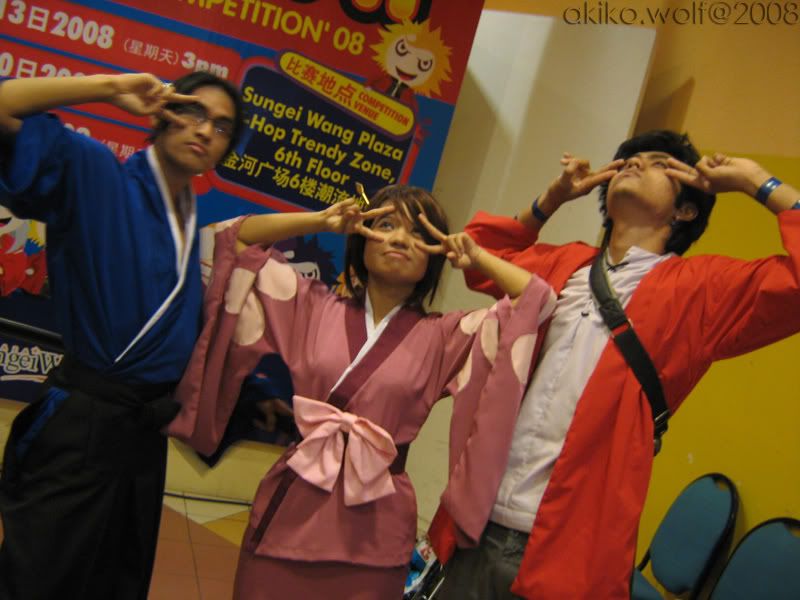 notably the best action-packed sketch among the contestants on day1. from samurai champloo, jin and mugen were unconscious and tied up behind their backs when fuu (

meamizumo

) was passing by the area. thinking this is her chance to get a couple samurai to help her problem out, she agreed to released them in return of a favour. things dont go as her plan, and trouble ensues as jin and mugen meet sword to sword!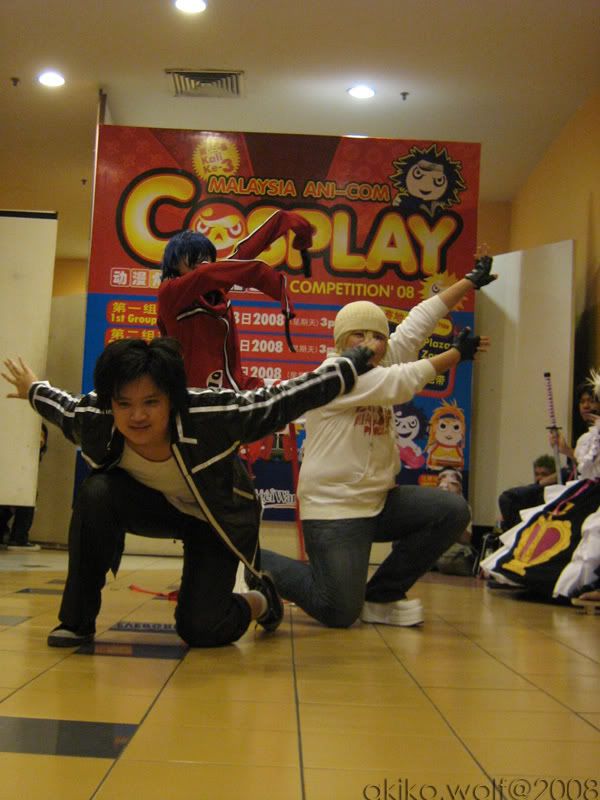 last but not least,

waninoko

as akito&agito in this air gear sketch with ikki (

yuancross

) and kazu (

rayray

). akito was absent-mindedly cuddling teddy bear when ikki carefully snatched away akito's soft toy! a fight is promised when agito is unconsiously awaken. unfortunately for kazu who came to ikki's rescue, he became the bully target of agito and ikki!

lets have around of applause for the grand prize winner: